Exquisite local and Italian tastes
Ventisi – Italian & Thai restaurant in Bangkok
Ventisi delivers a casual yet effortlessly elegant all-day dining experience with great panache. The interiors are bright, the service is warm and then there is the food, which honors two of the world's all-time favorite cuisines. Divided with two live island kitchens, our chefs pay tribute to authentic Italian flavors and classic Thai cuisine.
RESTAURANT INFO
06.30 – 22.30 hrs. daily (last a la carte order at 21:30 hrs.)
Breakfast buffet (daily): 06.30 – 10.30 hrs. (buffet closes at 10.30 hrs.)
Lunch buffet (Daily): 12.00 – 15.00hrs (buffet closes at 15.00hrs)
Specialty dinner buffet (Everyday except on Sunday): 18.00 – 22.30 hrs. (buffet closes at 22:00 hrs.
Price Range – $$
Dress Code – Casual
Indoor seating – 216 Indoor Seats
Step out of the elevator on the 24th floor of Centara Grand at CentralWorld to find "Ventisi" – an exciting new dining concept primed for great food coupled with lively conversation in the heart of Bangkok.
The action here is centered around two live cooking stations focusing on Thai and Italian cuisine. This gives you the chance to experience some of the finest flavors from Southeast Asia and Europe while engaging with our world-class, friendly chefs doing their thing right in front of your very eyes.
At the Thai cooking station, expect a mix of traditional recipes from the Kingdom with a touch of modern flair, while the Italian station is all about freshly made pizza served hot out of the oven – with our Italian chef twirling discs of dough while answers your questions about the range of mouthwatering toppings.
Whether you're looking for a light bite or hearty meal, Ventisi promises a creative approach to dining with mixed seating, a touch of flamboyancy and lively atmosphere.
The venue also has shelves upon shelves of wine and premium imported produce, like olive oil and pasta, which is available to take home after your meal – another added incentive to visit Ventisi.
Witness this extraordinary dining experience in Bangkok by heading up to the 24th floor of Centara Grand at CentralWorld, with various buffets and live cooking open daily until 10.30pm.
GRABFOOD : FOOD DELIVERY
THE BEST MEAT
Grilled Australian Wagyu hanging tenderloin, sauteed mushrooms, roasted potatoes
Executive Chef of Centara Grand at CentralWorld
VENTISI BANGKOK
Milan-born Chef Andrea Montella has almost 35 years of experience working in kitchens around the world, including the United Kingdom, Italy, France, USA, Brazil, UAE and now Thailand, where he currently resides
This globetrotting chef has an uncompromising approach when it comes to quality, specializing in authentic recipes that incorporate the best possible ingredients.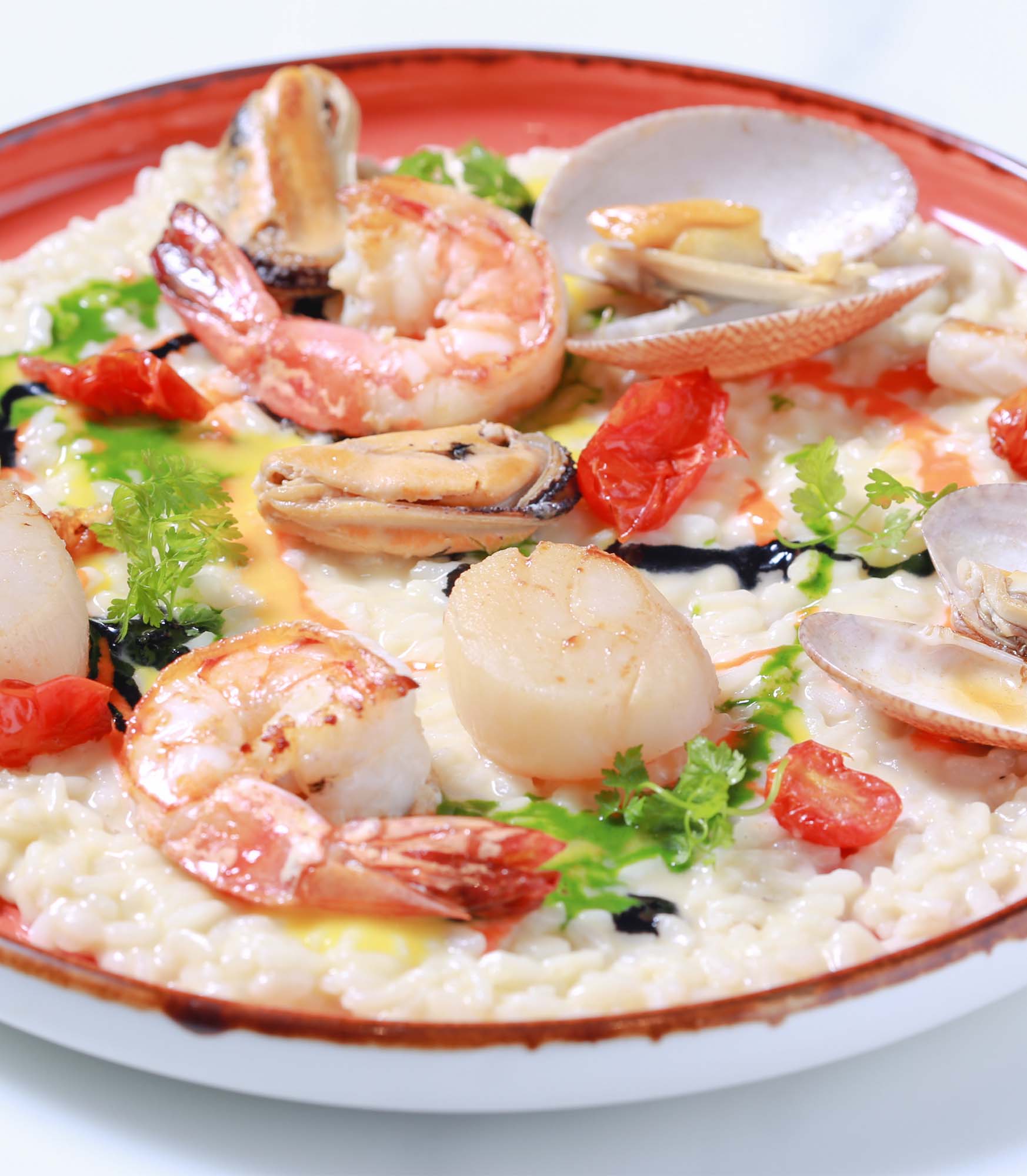 Risotto dripping ai frutti di mare